I Was Just thinking …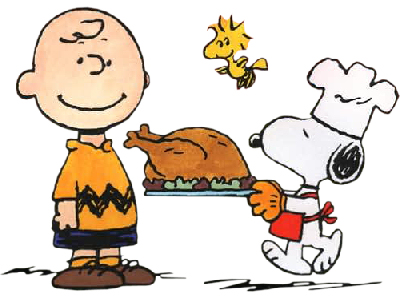 I miss the "Turkeydays" of my youth, when you pulled the drapes shut to keep out the bright sun, camped out in the living room, sat in front of the TV, and gorged on turkey and dressing and fixins piled THIS high on your TV tray.
Until you exploded.
Followed by punkin' pie a la mode, watching Tom Landry's Cowboys ALWAYS win, then, finally, undoing your belt, saying "waugghhhhh" like Buddy Hackett, and napping until dinner, the second NFL game, and a Charlie Brown TV special.
At least that's what the menfolk did in the living room.  I have no idea what the women folk did out in the kitchen.  I guess they were eating and napping, too.
What?
To this day, I have no idea what Mom used to make "cranberry sauce".  And, please, do not tell me "cranberries" were used, because I just know that whatever it was, was ripped from the still-beating heart of some poor animal, then covered with Jell-o.
I still wonder whatever happened to that huge, dark blue metal oblong casserole pot thingee that Mom used to make turkey and dressing; it was worthy of a deep and abiding love if not a large monument.
Mom would pull to bits a couple of loaves of bread, pour in magic ingredients, saturate with love, shove it all up the turkey's butt, cook for hours, and then, wa-la, the food angels would descend from turkey and dressing heaven.
I am not kidding when I say that I just salivated while thinking of Mom's dressing.
Lawsy, lawsy, lawsy, I need a towel.
I miss Grandpa saying an actual, proper, prayer of Thanksgiving before the family tore into our big meal.
I miss Grandma Bertha being in perpetual motion, constantly bringing seconds, plus more dessert and coffee, and always kissing Grandpa on the head and me on the cheek on every trip from the kitchen.
Even after Thanksgiving Day came and went, I fondly remember continuing to gorge on turkey and dressing — including dressing sandwiches, nom, plus various fixins and cheese dip and dessert — right up until Christmas Eve.
At which point, the Wonderful Cycle of Magical Food would start again.
And at Christmas, it would feature my other Grandma, Meow, who was such a great cook that even in her seventies, the frat houses on the OU campus would get in a bidding war each year to convince her to cook for them.
As I think of Meow's wonderful, succulent food…
I. Am. Dying. Down. Here.
And drowning.
Where did I put my drool towel?
Anyway, today, I am thankful for our countless blessings that include our  home, our talented son, our wider family, the Crack Puppies, and the Thanksgiving dinner that we will host in our home tomorrow.
I'm thankful that my U.S.-based sisters and nieces and nephews are even now, late at night, still gorging on wonderful, home-made Thanksgiving food, which they have lovingly photographed and put on Facebook, which has prompted me to cut them all OUT OF THE WILL.
But mainly, I am thankful that God is loving and merciful.
And I wish all y'all on the upside of the equator a very happy Thanksgiving.
Just, please, stop putting all the food pictures on Facebook.
Seriously.
Click HERE for more Okie memories from Down Under…
.